ABOUT US
JANET WILSON-SMITH
Janet (67) has an extensive background in banking and financial planning, spanning from 1989 to 2002. In 2003 she was a large retail store district manager, followed by CFO position for a minor baseball league in 2009. From 2010 to 2018 she's been a part-time bookkeeper for a Swiss Clean Energy Company.
She turned activist in 2011 following the financial meltdown and stood with the activists in New York, who fought for stricter laws on hedge funds and stock brokering derivatives. She toured the country for over a year (while performing bookkeeping for BNL Clean Energy), documenting the conversations of high- ranking officials to the homeless, trying to find solutions to societies critical issues and systemic problems. Touring brought her to East Pueblo, where after a series of serendipitous events, she got a house donated in the, then sketchy, East Pueblo. Since then Janet was instrumental in getting 3 houses donated from 2012-2015, and, after serious restoration of each (and with the help of many volunteers and local businesses) those houses were being used for creative youth programs to a very underserved area of Pueblo.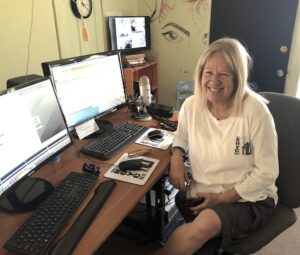 She volunteers many hours to help youth find their passion. Janet keeps current in youth affairs and is a strong advocate for bringing creative avenues to youth in Pueblo. She, along with another volunteer and a young teen mom, wrote a book in 2014 call "Where's my Passion?" which was written in both English and Spanish.
James Raymond Smith-
Is 69 years old and retired. His dad was military and James himself is an honorably discharged Air Force veteran. He worked for 20 years in a cement plant that closed during the wall street melt down in 2008 forcing his retirement.
Jimi is a well-known Pueblo guitarist and has played in 3 different bands in Pueblo. He's now teaching guitar lessons to youth for the past 3 years as a volunteer. James is devoting most of his energy toward our local radio Station as Music Programming Director. He still occasionally performs at coffee shops and other venues around Pueblo.
He's also involved in the community, by bringing music and musicians together… many of whom have been interviewed and those are played during "Local Musicians Hour" on KOYC 98.5FM. He also plays host to two radio talk shows on KOYC radio each week.
Stanley Clark
Stan (73) is a retired Veteran with a degree in Chemistry from the University of California. The last twelve years of work were for the Pueblo West Water department. As an operator he worked to clean water and waste water and train other operators in chemistry and math. Stan has been an avid amateur scientist and radio operator most of his life, where he learned electricity, electronics and how to fix mechanical things.
Through years of working as handy man work on homes and rentals, Stan learned how to repair homes from electrical, plumbing to carpentry and tiling. Stan's purpose in life as a retired volunteer, is to help his church and others through the skills he acquired through others over many years.
Stan does all the maintenance and upkeep on our properties and volunteers to help kids learn building skills, radio & Hamm radio frequencies, and also teaches chess on game nights.
Janet Hidalgo -Volunteer & Teacher
Janet was born on May 23, 1964 in Pueblo, Colorado. She attended Central High School and graduated in 1982. She went onto USC (now CSUP) and pursued a degree in Elementary Education. In 2003 she redirected her career to become a Librarian. Janet has a degree in Library information and Science. She has worked part time at the Pueblo County Library district since 2004. Janet went on to be a school librarian and did that for 15 years. She specialized in research. Currently she works as a truancy officer of the District 60 schools in Pueblo. Prior to that she was Special Needs teacher at Roncalli Middle school in Pueblo School district 60. In May 2022 she will graduate with a degree in Psychology.
Janet is a mother of 3 adult children. She loves animals, gardening, reading, and history. She likes researching and learning new thin.
Patricia Grubb -Art Volunteer
Pat earned her Undergraduate (1980) and Master's degree (2007) from Iowa State University in Art Education, while teaching k-12 and elementary art in Iowa for 25 years. She was active on the boards of IASE (Iowa Alliance for the Arts Education).
Pat was also the visual art instructor for the VSA Arts of Iowa, in which she developed the curriculum for the classes, and coordinated with the area educational agencies, around the State of Iowa to provide professional development for teachers. Pat was awarded the Iowa Elementary Art Instructor of the year in 1995, and the Outstanding Iowa Art Teacher of the Year Award in 2007.
After retiring and moving to Pueblo, Pat worked as the art teacher for the four years at the Connect Middle School, which is a charter school for D70. She is currently working with the residents of Brookdale Retirement Center. Pat belongs to "Alpha Mu Delta", a sorority that promotes the arts. Pat attends the month Maker Meetings representing Pueblo House where she has volunteered for over a year providing an art program and safe place for middle school kids to explore their interests.
Pat is also doing extensive outreach for NAMI (National Alliance for Mental Illness) and Al-Anon, offering support for the families of alcoholics and addicts. Her passion for how the arts contribute to mental wellness and brain development, is crucial to what we do at Pueblo House.